Plan A Visit
Service times, directions,
and what to expect
on your first visit to FPC Seymour.
Getting to know each other
We know meeting someone for the first time can be intimidating, and going to a new church for the first time can be nerve-racking. We want to help make your first experience at First Presbyterian Church Seymour a great one!
Our Regular Service Times
Sundays at 10 am
Sunday Morning Worship 
Sundays at 2 pm
Hispanic Services
Where to park?
First Presbyterian Church Seymour has a parking lot the can be accessed from Third Street or there is street parking available on Walnut Street.
HOW LONG IS A SERVICE AT FIRST PRESBYTERIAN CHURCH SEYMOUR?
In total, a service is about 60 minutes in length. Services begin with the choir leading the church in music. With the hymn number posted at the front of the sanctuary so you can sing along and/or engage with worship however you feel most comfortable. During the service, we'll also spend time praying, reading the Bible and our pastor or one of our church leaders will also preach a sermon from the passage of the Bible we've read to help us better understand God's word to us.
WHAT'S THE CULTURE LIKE AT FIRST PRESBYTERIAN CHURCH SEYMOUR?
Sunday's are hope-filled, casual, and relaxed. Come as you are and expect to feel welcomed as our guest.
WHAT ABOUT MY KIDS?
We believe that kids should be a part of church every single week – and at First Presbyterian Church Seymour, we make this a priority.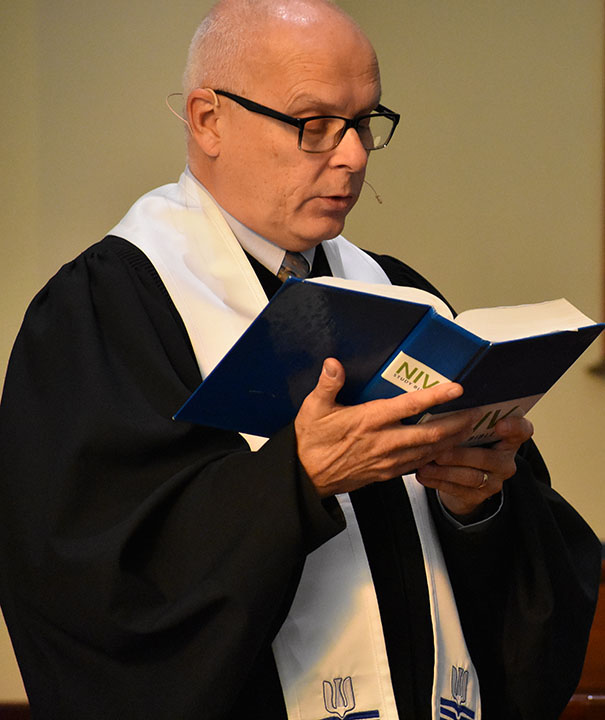 About Our Pastor
I grew up in Washington, Pennsylvania in a home that consisted of my father, mother, two siblings and me.  My father was the minister of the First Presbyterian Church in Washington so we spent a lot of time in that church, often being the first ones in and the last ones to leave.  As a young person, that experience was formative in my understanding of what it means to be a community of faith. 
After high school, I attended Wake Forest University and graduated with a degree in politics.  The fall after my graduation, I entered the Master of Divinity program at Princeton Seminary.  In 1983, I headed to Texas to be an associate at a Presbyterian Church in Dallas.  
From Dallas, I was called to be an associate pastor in Fort Worth, followed by a season as a special education teacher in the public school system.  
In 2003, I felt the call back to full-time ministry and served St. Andrew Presbyterian Church in Longview, Texas until an opportunity to move to Madison, Indiana came along in 2013.  
Along the way, I married Sheri, and together we have shared some wonderful experiences.  These include more youth camps than I can count, working concessions at Texas Ranger baseball games, many a hiking trip, including a five-day mountain hike in British Columbia, Canada, pulling our RV to places near and far, and celebrating life with two children, Greg and Jennifer.  
 Sheri and I are excited to be in Seymour and a part of the wonderful community of faith at First Presbyterian.  It is our hope that we can work to support the various ministries at First that impact so many lives, both within and beyond the walls of the church.  
Our History
First Presbyterian Church is a historic Presbyterian church located at 301 N. Walnut Street in Seymour, Jackson County, Indiana. It was completed in 1884 and is a one-story, Late Gothic Revival style brick church with a cross-axial plan. It features a tall corner bell tower and large art glass windows measuring 18 feet wide by 22 feet high.
It was listed on the National Register of Historic Places in 1991